The smallest city in the World
With about 300.000 inhabitants Aarhus (Århus) is the second largest city of Denmark. It is placed on the eastern coast of Jylland (Jutland) and has the largest commercial harbour in the country.
Compared to its size it offers great opportunities both for tourists and professional visitors. For this reason it is often referred to as the smallest city in the World.
Life in Aarhus is strongly influenced by the 20.000 students of University of Aarhus. Young people are seen everywhere in the many cafés in the town centre, and several discotheques are open to five o'clock in the morning.
Historically Aarhus is one of the oldest still existing towns of Northern Europe. Archaeological finds show that the area has been inhabited for at least 1300 years. Already in viking age it was a well established commercial centre and harbour. As today its centre was placed along the river Aarhus Aa.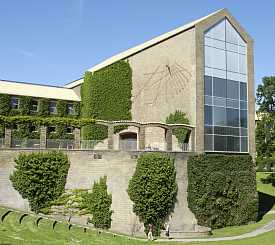 University of Århus is placed in a green parc close to the famous Old Town Museum and The Botanic Garden.
One the great attractions of Aarhus is The Old Town - a working museum in a rebuild town with 75 old full size houses from all around Denmark. It is open all year and often has life activities.
In the latest decades Arhus has developed dramatically both commercially and culturally. Near the town hall is build a Music House in connection to a congress centre. As a neighbour the new art museum Aros was opened in 2004 already well known for a number of special exhibitions of international modern art. The harbour has been enlarged for the increasing contrainer trafic and is a popular stop for many cruise ships in the Baltic Sea.
In 2007 Århus will host the start of the Tall Ships' Race.
Cultural Aarhus is also known for the yearly Århus Festival in the first week of September. The Viking Moot of Moesgaard attracts both Danes and historical interested people from the rest of Europe and other parts of the World.
Århus has good traffic connections to the capital Copenhagen and other parts of Denmark and Northern Europe. Trains go from Copenhagen every half hour.
There are highways to Northern Jutland, Copenhagen and Hamburg and direct flights from Copenhagen and London.